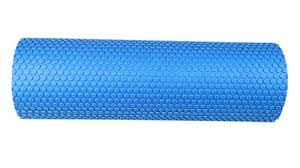 About this item
DENSITY: The GoFit Foam roller is just the right firmness and density to assist with recovery after a strenuous workout.

RELIEF: Use the45cm Pink  Foam Roller to help relieve muscle and joint pain after a difficult workout.

SURFACE: The Soft-Textured Surface on the Pink  Foam Roller provides light-to-medium Tissue Massage for all your pain relief needs.

GREAT FOR: The Pink Foam Roll is a great tool for self-massage and muscle compression.